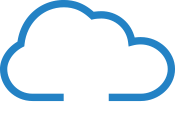 Services delivered like gas and electric
Email, file storage and business systems delivered over the internet from secure datacentres on a per user per month basis.

Advances in technology and faster internet connections at lower costs have combined to bring the 'cloud' based services to the forefront of the IT marketplace.

With consumer based services such as facebook, twitter, itunes and the gaming community with Xbox and Playstations, most people now see the 'cloud' as part of their everyday life

Even in this brave new world, whether 'cloud' based solutions are right for your business or organisation still depends on the circumstances and what you ultimately want to achieve.

Some scenarios where we have found 'pure' cloud solutions to be the right approach:
A mobile or dispersed workforce lends itself well to hosted services.  With no infrastructure to support and access from anywhere at anytime
Multi-sited organisations wanting to share common business systems.  Especially those companies which have an even spread of people throughout their sites
Businesses where rapid expansion or contraction are commonplace, can find that the 'per user per month' model and capacity available can mean that you can grow and shrink quickly without major capital expenditure.
Reliable and high speed internet connections can act as a real enabler for 'cloud' based services.
Organisations with 5 or less computer users will find that cloud offers the functionality of a server without having to pay for a platform that could handle 3 times as many users.
Businesses that want to 'consume' as they use and grow their organisations
Companies who want a powerful disaster recovery and business continuity plan at minimum cost.  By putting services in the 'cloud' in high availability datacentres, you can still access core IT systems from anywhere with an internet connection.
Situations where the 'vanilla envelope' type products provided by the cloud solutions is absolutely adequate to meet the IT needs of the business.
Those clients who are prepared to pay a little more to know that all responsibility and management of their IT systems is outsourced.
A lack of in house IT expertise
Use of less bandwidth hungry business applications, documents and files.